Gynaecology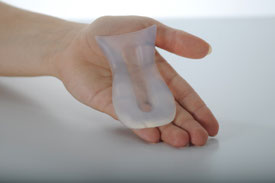 "Hypertrophic Labia Minora"
Many women of all ages are or will at some point in their lives
be affected by that problem.
They perceive the inner lips of the vulva as
too big
unsymmetrical
malformed
bothering while wearing tight clothes
undressing creates feelings of shame
intercourse is often conceived as uncomfortable or painful
biking, hiking, riding and other sports cause pain
mycoses can occur more frequently as a result
Which alternatives do you have?
Of course today you can choose to have plastic surgery. But what if you decide against surgery and still want to actively participate in public life and sports - without being affected by any sort of pain?
The silicone inlay of the Smooth Ride by ROLAS® FF has successfully been tested by active women all over the world. It can protect the inner labia most effectively, while being almost invisible from the outside and barely noticeable for you.
If used under right indication the inlay wil prevent chafing to the greatest possible extedt, even while wearing tight clothes and the permanent absence of pail can spare you many of the points listed above.
Allow yourself to be persuaded by the efficiency and wearing comfort
of Smooth Ride by ROLAS® FF you too will be pleasantly surprised.